With the jump racing season fast approaching, now is the time to get your race day wardrobe ready. We have put together our favourite pieces which we think make perfect race day attire as well as some outfit ideas and handy tips which will help make your day at the races an enjoyable affair.
Our outfit idea for ladies features the Holland Cooper Chiltern Tweed Cape paired with Fairfax and Favor Heeled Regina Boots in Tan, the interchangeable tassel's can be chosen to match your accessories. The colourways work nicely with a Fairfax and Favor Mini Windsor Handbag in Navy and Tan and is finished off with a Hicks and Brown Suffolk Fedora in Dark Brown with Gamebird Feathers.
We love this luxury men's look which features the Schoffel Belgrave Tweed Sports Jacket in Loden Green Herringbone on top of a Schoffel Brancaster shirt in Blue Olive Check accessorised with Dubarry Lacken Silk Tie in Navy. Pick the colour of your tie based on shoe or accessory colour choice. We think this works great with R M Williams Suede Comfort Crafstman Boots in Chocolate and is completed by the Failsworth Gamekeeper Tweed Cap in Red Check.
Given that most of your day will be spent outside, a warm jacket is an absolute essential for winter racing, whether that's a longline wool jacket or a tweed cape. We stock a range of coats and jackets from various brands which make for perfect race day attire. Womens brands such as Holland Cooper, Guinea London, Anna Lascata and Hartwell are our favourites for smart and stylish jackets. For men, we recommend Brook Taverner, and Gurteen tweed jackets or a classic Barbour wax, styled on top of a Schoffel or Barbour long-sleeve shirt.Text
A good pair of country boots are essential for a day at Cheltenham. Comfort is key when spending a long time on your feet, the combination of cold winter days and lots of walking between watching the horses, the tote and the bar calls for a sturdy pair of comfy country boots. Cold and achy feet will sap the joy out of your day so comfy boots are a must, after all, the queues for a drink will be long. (Tip: the bars are quietist when a race is running!)
For Women, we recommend the Fairfax and Favor Regina boot which is available in a range of colours and with a variety of heel heights. With interchangeable coloured tassels to match your chosen accessories, the Regina is a staple country boots you will reach for again and again. We also have long tassel boots from Penelope Chilvers. These long leather boots are crafted from luxury Spanish leather for endless comfort and elegance. (Tip: stick on a pair of knee high Dubarry alpaca socks underneath your boots and although they're not seen, they are certain to keep your feet extra warm!)
In the way of footwear for Men, we recommend the RM Williams Comfort Craftsman boots available in Suede and Leather. These hand-crafted boots fit like a glove and the cushioned innersole will ensure that you stay comfortable on your feet for the whole day.
It is important to layer up. Although the aim of the game is to look stylish, it is best to do so whilst being warm. The races can get very cold and exposed to all sorts of weather so it is recommended to wrap up warm. Polo necks and chunky knits under a warm jacket are a definite. The Holland Cooper cable knit jumpers come in a range of colours which are perfectly stylish and warm to wear underneath a jacket. For men we recommend adding the Schoffel Oakham gilet over a shirt as a stylish extra layer without adding too much bulk. (Tip: the car parks are a long walk away, so its best to wear the extra layers and not keep them as a just-in-case in the car)
Hats are becoming increasingly popular at the races, the more plumage the better. We stock timeless British-designed Fedora and Trilby hats from Hicks and Brown, in a range of colours and selection of natural feathers. A smart leather belt is a great way to break up an outfit, for example the selection we stock from Mackenzie and George such as the Marlborough Cartridge belt for men or the Snaffle Bit belt for women are a great go-to. To keep extra warm and add a finishing touch of elegance to an outfit, we recommend adding a hat or scarf. We love the luxurious silk scarves made by Clare Haggas in a range of colourways, they are a smart country accessory that can transform any outfit as well as keeping you warm. For men, the lambswool scarves from Barbour are incredibly warm and soft on the skin, the perfect way to complete a country outfit. If you're looking for something to safely carry valuables around in throughout your day at the races, we recommend the Mini Windsor handbag from Fairfax and Favor which is compact yet roomy enough to fit your purse, keys and other essentials.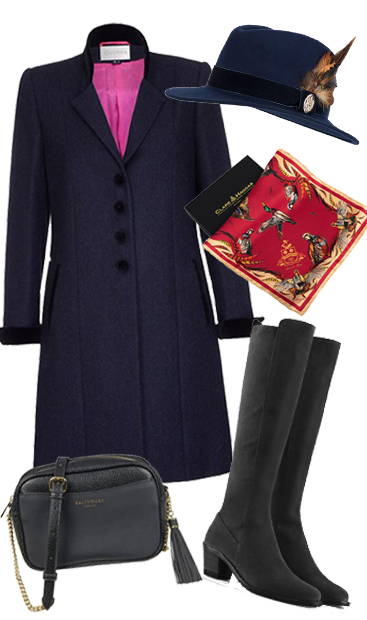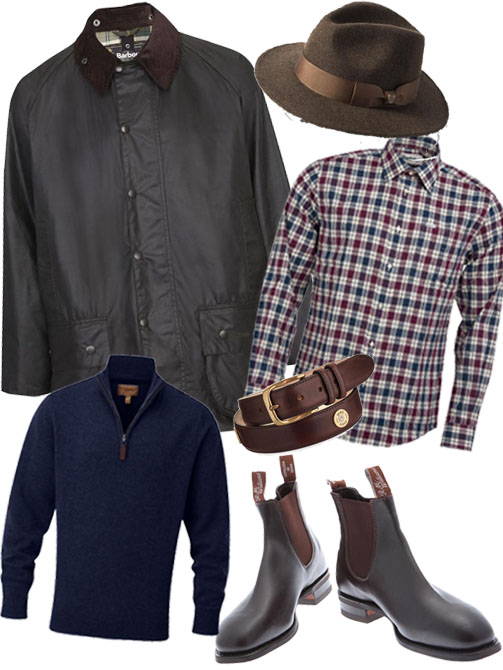 We love this outfit for ladies. Get the look with the Guinea Picadilly Wool Coat in Navy paired with Fairfax and Favor Belgravia Boots in Black. Add a splash of colour with a Clare Haggas Classic Silk Scarf in Show Royal Red and Gold. Accessorize with a Hicks and Brown Suffolk Fedora in Dark Navy finished off the outfit with a Salthouse England Adira Cross Body Bag in Black.
This mens outfit idea features the Barbour Beaufort Wax Jacket in Sage on top of a Barbour Astwell Shirt in Merlot, worn underneath the Schoffel Lambswool 1/4 Zip in Navy which is super warm and soft. Completed with the R M Williams Comfort Craftsman Boots in Chestnut, a Mackenzie and George Marlborough Catridge Belt in Choco and lastly the Failsworth Boston Brimmed Hat in Moss.